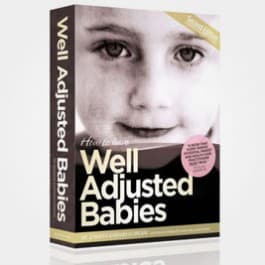 Well-Adjusted Babies is a book I recommend to all parents of young children but especially pregnant women. It takes the reader on a well-informed journey from pre-conception, through the pregnancy, labour and birth and all the options that present, breastfeeding, through to first feeding solid foods, and more!
The information offered in the book is well-researched, evidenced-based and backed up by referenced studies, however this is all presented in an easy to read format (as opposed to some other dry and boring information based books).
Well-adjusted Babies has been endorsed by celebrities such as Miranda Kerr who reportedly continued to refer back to the book as her baby boy Flynn grew.
The best thing about this book is that you are basically getting about 10 books in one. Generally each stage of your child's life requires another book and another lot of information. With Well-adjusted Babies you can find it all in the one place, with each stage flowing on from the last.
Claire, mother to Fergus who is 2 months old and blogger on White Blank Pages had this praise for Well-Adjusted Babies:
"Throughout my pregnancy and now with a newborn I refer to Well-adjusted Babies constantly.
"It guided me through my pregnancy, reassured me and made me feel like I was fully equipped in every scenario. Well-adjusted Babies was my one and only resource through my pregnancy. I especially referred to it in the final stages, when I needed it more than ever preparing me for labour and giving me the courage I needed.
"In the build up to labour, my partner even picked it up to read giving him a better understand as to what to expect.
"It is a fabulous resource from conception through to motherhood. I highly recommend it."
Claire Colebeck | whiteblankpages.com.au
Well-Adjusted Babies is available from Santosha Health & Wellbeing Centre or online by clicking here.
Share