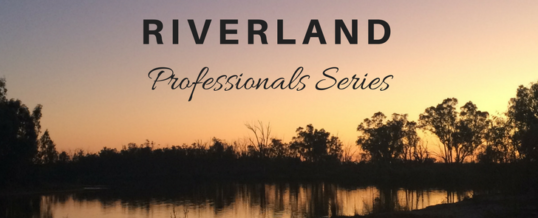 I am asked on a daily basis for referrals to other professionals in the area. This is the second in a series of blog posts dedicated to professionals around the Riverland, whose skills and qualifications complement services received at Santosha.
For our next profile, I am pleased to introduce Elyse Steed, physiotherapist. Elyse is the owner of Just Move Physio in Renmark. Elyse and I share many mutual patients and while I haven't personally had an appointment with her (yet!), the feedback I receive from her approach is constantly positive.

What is your profession? What areas do you have qualifications and training in? 
I'm a Physiotherapist, I did my Bachelor of Physiotherapy at UniSA between 2006 and 2009.
Sine then I've done lots of different professional development courses in Australia and in the UK based on my clinical interests of orthopedic rehabilitation, persistent pain and running training.
Most of my extra manual therapy courses have been in light touch techniques Strain Counter Strain and more recently Craniosacral Therapy.
What does your job involve on a daily basis?
In the morning I always start by getting my outside waiting room ready and path tidied up ready for the day. This is followed by general admin jobs like checking emails/messages, reconciling, returning phone calls and juggling client appointments around.
Then I'll have my list of clients for the day, which can vary hugely depending on who is in. My time with clients generally consists of listening/interviewing them in regards to their complaint followed by a physical assessment before treatment. I place a huge emphasis on education as part of my treatment so I spend a lot of time explaining things to people, at the moment I'm loving my new anatomy app or Explain Pain to do this. After education treatment time will usually involve manual therapy and exercise prescription.
During my breaks and end of day there's always case notes to be done which are definitely the worst part of the job.

How did you become interested in Physiotherapy?
I decided I wanted to be a Physio in year 8 due to visiting the physio several times with my own sports injuries. I thought it would be pretty good to be the person who helps people get back to sport. Before getting to uni I wasn't really aware of how big the profession was outside of sport because that was my only experience.
What is your biggest life achievement?
At this stage I'm most proud that Jack and I took the plunge to pack up here in Renmark and head away on our year long adventure in Europe, where we travelled and worked in our professions. It's probably the riskiest and most challenging things I've done, but the learning that came from it has had such a huge influence on me as a person and professional.
What is one thing you can help clients with (that the general population may not realise)?
Ooh tough one, for me probably that I can help them to understand their pain and how things other than mechanical loading affect it. I spend a lot of time explaining how stress affects pain; I believe that understanding is a really powerful tool to managing you own body.
Where are you located?
I work from my home clinic Just Move Physio at 536 Kulkyne Street, Renmark West. It's really cool because I have a lovely bright space in the clinic but I've also got heaps of outside space where I can observe and retrain people to move which is so important.
What do you enjoying doing in your spare time?
I love to be outdoors, especially in my garden or on my bike. I have an 8 month year old puppy so I spend a lot of time walking her now. I've always been involved in netball and basketball but that's just finished so I might get a bit of free time. Most of my family is here or in Adelaide and I'm very lucky that I see a lot of them too.
Share