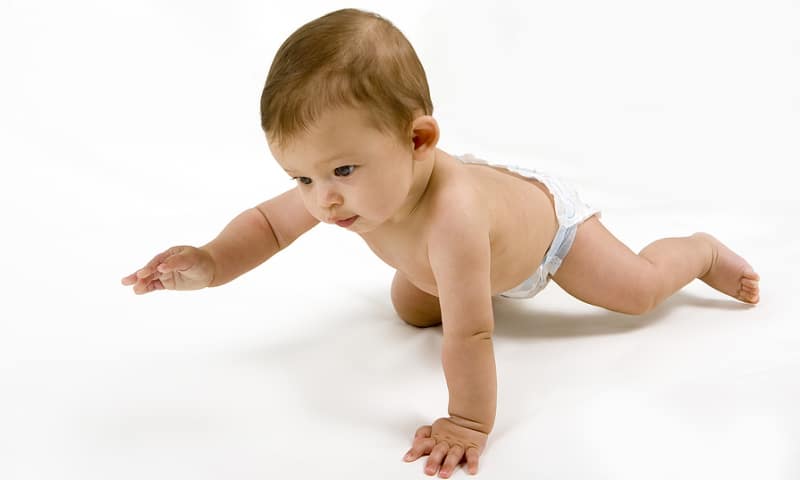 Although each child develops at different rates, there is a correct sequence to this development. This sequence moves through parts of the brain in a very specific order. Unfortunately with all the mod-cons of today, this sequence is often disrupted.
Normal development
Babies are born with reflex movements only. This begins before birth and the 'kicking' felt from the baby is part of this development. No movement is purposeful. At around 16 weeks of age, the brain progresses into what is called homolateral activity, which is using one side of the body and either top or bottom at one time. This also includes visual and auditory senses (seeing and hearing) but due to each side working separately, location of sounds and depth perception doesn't occur.
Between 6 months and one year of age is a very important time period developmentally speaking as this is when the body learns to use both sides of the body together. This movement pattern is called "cross-crawl" or "cross-patterning". This is an important phase due to its relationship with moving into an upright position and ensuring the two hemispheres of the brain to work together. This development time frame also includes hand-eye coordination.
Between one and five years, this bilateral (both sides) development continues to progress and walking begins. Early in this stage the arms do not move in a cross-pattern with the legs, but rather they are used for balancing. Moving into this phase too early (i.e. when bilateral function is not sufficient) can retard normal development. It is not until 3 years of age that left or right sided dominance becomes prominent. Before this time it is important to develop both sides of the brain equally. Once dominance is established, it should be constant through-out the body. Hand dominance should be the same as eye, foot and ear. This stage will reach full development by around 5 to 8 years of age.
Examples that may cause disruption to this normal process
Bottle-feeding babies on one side
Breastfeeding naturally encourages development on both sides as each breast is used almost evenly. When feeding occurs, one eye, arm and leg are restricted and eye contact is made with the other side. When bottle-feeding, it is common for the parents to use their dominant side, however this means the body restriction on the child is consistent on one side, not allowing the often restricted side to develop fully. Swapping sides each bottle feed ensures each side of the baby's body receives the same stimulation.
"Walking" babies (holding onto their hands while they "walk")
As walking is a very complex task neurologically, it is imperative that the nervous system is developed sufficiently to cope with this activity. Proficient development of each hemisphere of the brain must be complete; otherwise it may be delayed or interfered with when encouraging a child to stand or walk too soon. Allowing children to develop at their own pace allows the normal sequence to occur naturally.
Using cutlery
The introduction of solid food for children is shifting earlier and earlier (this is a separate issue) but that also means the encouragement of utensils is also becoming earlier. The use of a fork or a spoon is a unilateral (one-sided) activity and may force a child into dominance before their brain is ready. Eating with their hands not only encourages a child to use both sides of their body (brain) before dominance at 3 years, it also gives them a lot of sensory feedback when they are able to touch, feel and move their food around. Sorry Mum, playing with your food is actually good!
These are just a few examples. Jolly jumpers, walkers, Bumbo seats and other contraptions are a contentious issue. The bottom line is that anything that pushes a child into an area of development that their nervous systems is not yet ready for, may be detrimental on the long term, whether used in moderation or not.
Share