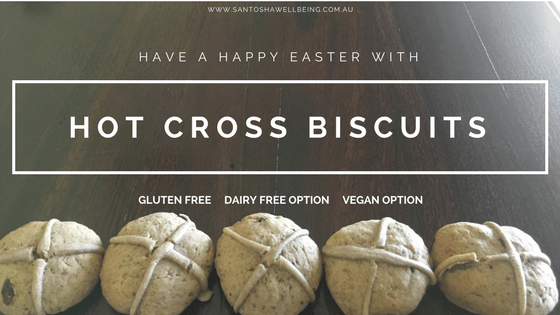 I love hot cross buns. Who doesn't really. Since finding out my body loves life a little more when there's a little less gluten in it, I have been trying my hand at gluten free hot cross buns each Easter.
However, another blow to my hot cross taste buds came with the results of a food intolerance blood spot test. My body is also not so happy with bakers yeast and brewers yeast, which now rules out any GF breads. Happy tummy, happy me.
But in the lead up to Easter, those spicy buns really get to me. So this year I had an idea: Hot cross biscuits!
Truth be told, they're just biscuits. But they're GF, can be DF or vegan with substitution, yeast free to keep my belly happy and quite low in sugar. And I've added in spices, sultanas and the crosses on top!
Before I make my next point, there is nothing wrong with gluten free flour. It's easy, pre-mixed for what you want and comes in many different varieties depending on what you're making: bread, pizza bases, cakes, etc. So long as there are no ingredients that could possibly cause allergies (potato starch affects some tummies) it's all good. However, GF flour is still often based on grains, some of which have been found to be inflammatory (check out Grain Brain by Dr David Perlmutter). And there are so many other options out there and I think there's a lot to say for experimentation.
Some grain-free flours include:
Buckwheat
Quinoa
Coconut
Almond
Arrowroot
Tapioca
Each one has it's different properties which make it better suited to some recipes than others. That's a blog post for another day…
Here they are:
Hot Cross Biscuits
Ingredients
1+1/4 cup buckwheat flour
1/2 tsp salt
1/2 tsp baking soda
1/2 cup butter (coconut oil for DF/vegan)
1/2 cup coconut sugar
1/4 tsp vanilla powder
1 egg (1 chia/flax 'egg' for vegan)
1/3 cup sultanas
1/4 tsp cinnamon
1/4 tsp ground nutmeg
1/8 tsp clove powder
Method
Mix buckwheat, salt, baking soda, vanilla powder and spices in a bowl.
In a separate bowl, cream the butter/coconut oil and sugar until fluffy.
Blend in 'egg'.
Mix the dry ingredients with the wet ones and the sultanas. Here I used my hands to really mix it together.
As the buckwheat has no gluten to glue the biccies together (and your insides…gluten does that by the way) pop the mixture into the fridge for about 20 minutes to firm up.
Now you can preheat the oven to 175*, line your tray with baking paper and pop the kettle on ready to make a cuppa to have with your fresh biccies.
Divide the mixture into 10-15 biscuits. The photo below is a division into 10 but next time I would do maybe 15 and get them lasting longer.
Bake for 12-15 minutes until golden on the edges.
Optional are the crosses. I just did that so I felt more like I was eating the real deal and for aesthetics. The crosses are made with 40g buckwheat flour, 50g water, 1/4 tsp olive oil and a pinch of salt. Mix it all up in a blender of some sort (I used a bullet) and pipe it onto the biscuits.
You could also make the choc chip hot cross biscuits with either choc chips or cacao nibs. That insightful food intolerance test I did also showed up a slight reaction to cacao, so I decided to minimise my exposure and save it for Easter Sunday.
Share