These low sugar cashew biscuits are so yummy that everyone who I've shared them with end up asking me for the recipe. They are similar to ANZAC biscuits but are made with cashews rather than oats. Despite being low in sugar they are very tasty.
I found the original recipe in a fastPaleo cookbook "Top 10 Cookies of 2013". They referenced the recipe as being from Kate's Healthy Cupboard, a website which is definitely worth a visit.
As they contain no flour, the biscuits are very soft and fragile when they come out of the oven. As long as you are gentle they will hold together and as they cool will harden up. Even if you do end up breaking one (they kinda just crumble) you have two options: eat it quickly! Or push it back together and it will set. Personally I would just eat it.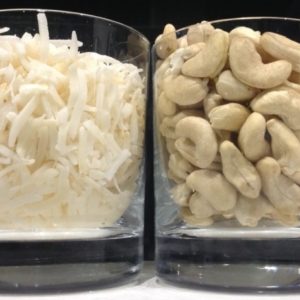 What you need:
1 1/2 cups cashews
1 cup shredded or dessicated coconut
1/3 cup rapadura sugar (or other unrefined sugar substitute)
1/4 tsp vanilla powder (Honest to Goodness do an amazing vanilla powder)
1/4 tsp baking powder
1/4 tsp sea salt
1/4 cup coconut oil melted
2 tbsp coconut milk
(My cashews, coconut, rapadura, vanilla powder, Himalayan sea salt, coconut oil and coconut milk all came from Honest to Goodness. They have a huge range of organic pantry items. If you can get them wholesale or through a food co-op in your area they are great value for money too!)
What to do:
Process the cashews and coconut until it resembles somewhere between sand and gravel. The more times you make these biscuits (and it will be more than once!) you'll get to know how course or fine you like them.
Add rapadura, vanilla, baking powder and salt. Process just until combined.
Pour in melted coconut oil and the coconut milk and mix until it becomes a dough.
Scoop into balls and place on baking paper on an oven tray. Again you can play with the shape and size. I use a big teaspoon worth of mixture. Flatten them down slightly.
Bake at 175 degrees for 10 minutes or until just brown.
Remove from the oven and slide baking paper off and onto a tray.
Wait until they have cooled to move onto a rack.
Store in an airtight container once they have cooled completely.
Share them around. Everyone will love them!
Cashews are high in the amino acid L-tryptophan which is a precursor to serotonin, your happy hormone. They also contain magnesium which helps in many biochemcial pathways including relaxation of muscles but also energy pathways. So next time you're feeling a bit down, reach for a handful of cashews and give yourself a natural boost!
Share