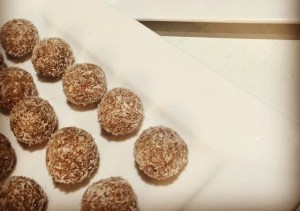 I made these Lemon Bliss Balls to share with people at the first Riverland Health and Wellbeing Festival. Everybody LOVED them. Even those who looked hesitant when we told them there was no added sugar. No sugar doesn't have to mean no taste!
These balls are perfect for mid-morning or mid-afternoon snacks. You can swap almonds for sunflower, pumpkin or flax seeds for a nut-free version.
The ratios of ingredients are only rough estimates. When making these kind of things I stand in front of my thermomix with the pantry and fridge doors open and just add whatever I see. So feel free to alter the ratios to suit your taste.
Try this for starters…
1 cup activated almonds
2 tablespoons of coconut oil
7 medjool dates
2 tablespoons of chia seeds
Rind and juice of 1 lemon
Dessicated coconut for rolling them in
Mix all ingredients (except coconut) in a high speed blender or Thermomix until well combined.
Roll into balls, and then roll in coconut.
Store them in a sealed container in the fridge.
Share